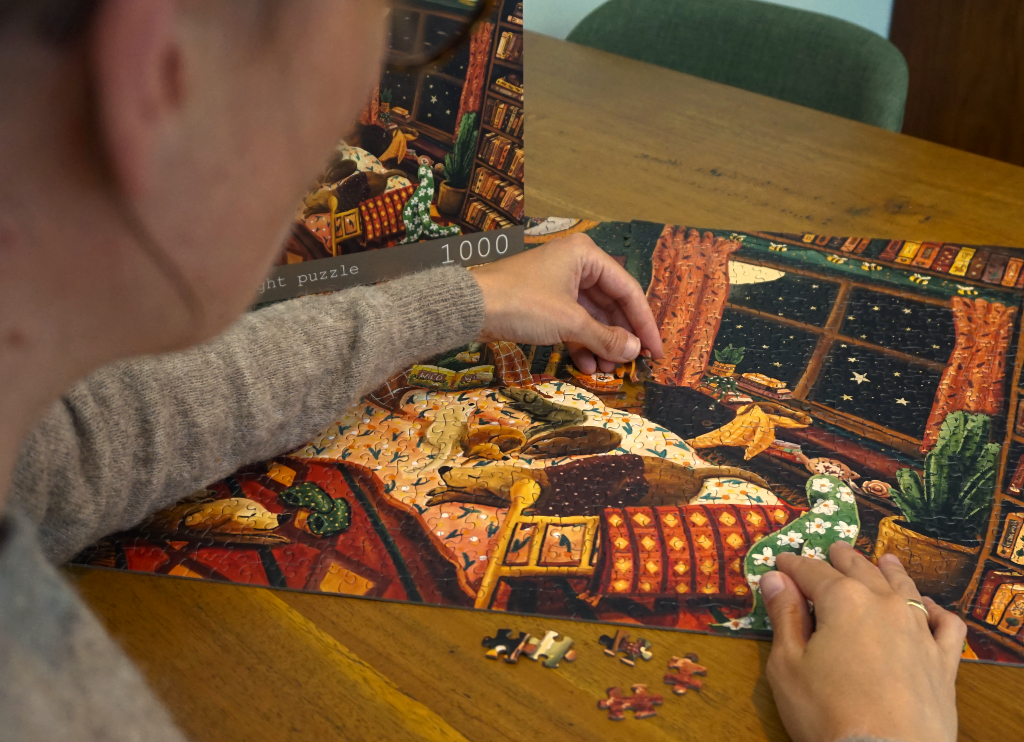 Perhaps you have already read it somewhere, in the newsletter or on Instagram, we have bought a new house! Super fun of course, but also intense. Especially because it is in another part of the country, everything is new. Strange times for me, that calls for self care with... cosiness of course! In this blog you can read all about the craziness of the moment and what cosiness means to me.
Anxious times
Rationally, I know how to place it all well. Renovating, moving, sleeping in two different places each week, new surroundings, busy in the webshop and oh yes ... a concussion (the shutter of the new attic was apparently open, ouch!). But in my world of feelings I notice that (often unconsciously) I find it all very much and very exciting. You know that? That you have it all figured out and can think it all out, but that your feelings still take on a bit of a life of their own?
So yes ... I'm often a bit anxious. Part of me finds it downright scary. So it's important to take care of myself as best I can and that includes cosiness, of course.
Cosy self care
I do not have the time or space to do all the cosy things I would like to do, but I have selected some that work very well for me.
Hiking in Autumn abundance
Wonderful to soak up the fall scents, watch my little dogs run and marvel at beautiful mushrooms. I always come home different when I take an hour in the woods.
Familiar book
I am someone who can 're-read' books, including the Harry Potter books. Nice and familiar, wonderfully relaxing and cosy! A cup of tea, some chocolate and I have (even though it may not last very long) a nice moment of recharging.
Making a puzzle
Even though I don't really have all the time for it, I still manage to lay a few pieces in between all the hustle and bustle. A moment of an empty mind, wonderful!
Painting
I try to make an illustration once a week, just as "self care'. Something I feel a need for (I also once started painting in therapy form for my PTSD). I find that I already recharge when feeling and thinking about what I want to make. And of course the thing I make will be super cosy!
Evening tea
's Avonds ben ik niet op mijn best en kan ik niet zoveel. Goed idee om daar dus juist een cosy self care momentje van te maken. Ik maak het gezellig met lampjes en kaarsjes (voor zover mogelijk tussen de verhuis- en klusrommel). Ik zet een pot thee, duik nog ergens in een kast wat chocola of een koekje op. Boek erbij, dekentje over mij heen en ik heb een heerlijk cosy momentje op de bank!
Dogs
The little dogs are all too eager to cuddle and play. Playing with them works perfectly for me to get out of my mind for a while. Being present in this moment and having a good romp. Then a good cuddling session, which calms me down (because a dog on top of you or against you means you really do have to sit still for a while, works well for me when I'm busy!).
Cosy wish list
Fortunately, I know we are doing a renovating stop in December. So I have a list of things I'm already looking forward to doing then. Thinking of those things (and probably allowing yourself a renovating break) helps too! My list includes:
Playing board games (Wingspan is our favourite at the moment)
Bake a cake
Watch a movie together, sitting under a blanket
Getting out the Advent Calendar and use it!
Read a ton of cosy books
Make a campfire in the garden and bake bread on a stick
Making lovely hikes in our new surroundings
What is it you do?
Now I'm not normally this busy, so this is just a bizarre period for me. But maybe you are often busy or have you also had a crazy period? What did you do as self-care? Let me know, I could use any tips and maybe others too!