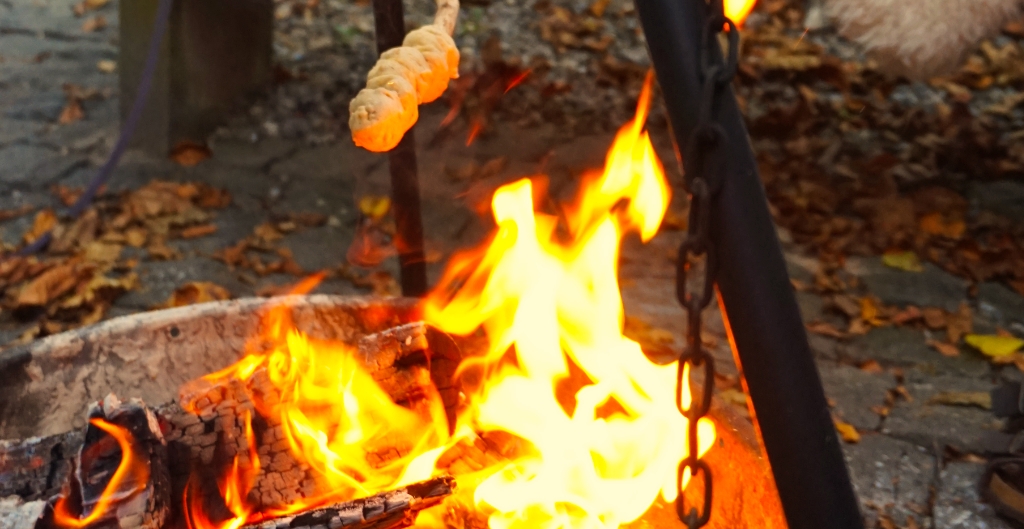 Late summer is here! In Dutch we call it 'nazomer' which can be translated to 'after summer'. The trees are slowly starting to change colour, but the sun isn't done yet! It's the best moment to enjoy a good 'late summer'.
The best cosy late summer activities
I collected my personal favourite late summer activities for you here! They are all cosy, a bit of slow living, a touch of self care and just a nice moment to enjoy life!
Campfire bread baking!
My absolute favourite! Super easy and very cosy. You need a stick, a fire and a bit of dough (be aware that your dough need some time to rise before you can use it). It'l make you day super cosy. Add a cup of tea, a thick woollen sweater and you're totally ready!
De eerste keer dat ik dit deed was (pas!) vorig jaar. Ik snap gewoon niet waarom ik het niet eerder heb gedaan, het is zó gezellig en lekker! Je snapt al dat ik ergens de komende weken in de tuin te vinden ben, met mijn stokje met brooddeeg, toch? Een fijne bijkomstigheid, vind ik, is dat het 's avonds heel rustig is buiten. De meeste mensen trekken alweer naar binnen, dus het voelt soms (zelfs midden in onze woonwijk) als vakantie, heerlijk die rust!
Hiking through the blooming heather
The heather is blooming! I love to do a good hike through the heather fields and woods. In the woods you can smell the beginning of autumn. The heather gives amazing views. In summer I find it often to hot on the heather fields, so this time of year is amazing to stroll around there! I bring a thermos with tea for a nice cosy moment (and a necessary rest). Hiking shoes on and go!
Dinner in the garden with cosy sweaters and cosy lights
Candles, lamps, a pot of hot tea, home made cake, a warm blanket and a thick woollen sweater. Put your head back and enjoy the stars, the cool air and the quietness. It's an amazing way to end a busy day. Your nervous system slowly relaxes and your thoughts get quiet. A bat passes by or maybe even an hedgehog! Why is it that I always seem to forget that this is way better than sitting inside? Let's do this more often this late summer!
Preparing your home for autumn
Nothing better than making my home cosy! Sorting out my blankets and woollen sweaters. Adding some fairy lights and candles on the right spots in the living room. Adding some inspiring, cosy decorations.
Experience the abundance of late summer
Blackberries, chestnuts, hazelnuts. Just some things of the abundance of late summer. I love to do something with it. I make a jar of blackberry jelly every year. We eat the two hazelnuts our little tree produces with care (super mindful!). And every year I roast a bunch of chestnuts (although I'm not super fond of the flavour, haha). Everything taste different and it gives me such a nice, slow, mindful, cosy feeling!
Reading books
Uh... do I need to say more? The late summer is the perfect time to review your book reading list. To collect the best books and to snuggle up a cosy spot in your home with a good book. Light a candle, blanket over your legs, cup of hot tea at hand. Just a perfect moment for yourself. Lovely to do outside in the sun, but the late summer sun behind the window is lovely too!
What will you do?
My intention is to do everything of this list once. Doing things that are truly 'me', a bit slow and of course cosy is an important value for me. It keeps me (with my chronic illness) balanced. So I intentionally choose for a cosy late summer. Although it's sometimes easier to work longer, put on the TV or do whatever you do out of habit. But sometimes it's just better for you to do things that make you truly relax and enjoy life. Something I learned the past few years. So I'm gonna have a cosy late summer, what about you?
More cosiness?
Subscribe for the cosy newsletter! Click HERE
Shop cosy items in my webshop click HERE
Follow me on instagram (and I bet you'll see some of these activities in my stories) click HERE
ps. Are you in autumn vibes already, check THIS !